Thunder Calibration Services
Accredited Humidity Calibration Services
Thunder Scientific's calibration laboratory is accredited by the National Voluntary Laboratory Accreditation Program (NVLAP), (NVLAP Lab Code: 200582-0), to ISO/IEC 17025:2017 and ANSI/NCSL Z540-1994. Calibration services are available for Thunder's complete line of humidity generators. In addition, Thunder Scientific provides instrument calibration for virtually any humidity measurement device or dewpoint hygrometer.
---
Thunder Now Offers Guard Banding
Guard-banding is a technique to protect against incorrect statements of conformity caused by measurement uncertainty. With guard-banding the test limits are reduced in proportion to the actual measurement uncertainty. This helps reduce the False-Accept Risk of a device during calibration.
Option 1 (No additional charge): Manufacturer's and/or user's specifications are listed in the calibration report; measured values greater than specification are identified. No conformance decision (Pass/Fail) is made or implied.
Option 2 Guard Banding (Additional charges apply): Conformance decision taking the measurement uncertainty into account using ANSI/NCSL Z540.3 Handbook Method 6, with a Probability of False Accept (PFA) of less than 2%. Formula: TLPFA2% = SL – U95% x [1.04 – e (0.38*ln (TUR) - 0.54)]
Option 3 Guard Banding (Additional charges apply): Conformance decision taking the measurement uncertainty into account using ANSI/NSCL Z540.3 Handbook Method 5 (conservative, tighter guard band approach deducting the measurement uncertainty from the upper and lower specification limits). Formula: TL = SL - U95%
Option 4 Custom decision rules (Additional charges may apply): Thunder Scientific may support other customer-prescribed decision rules. Please provide details on your calibration quote so your request can be evaluated by our technical staff.
---
---
---
---
Humidity Parameter
Range
Uncertainty
Volume ratio, V (PPM)
0.1 to 3 PPM
4.0% of value
3 to 200 PPM
2.0% of value
200 to 400000 PPM
0.1% of value
Dew/Frost Point Temperature
-90 to < -80 °C
0.50 °C
-80 to < -70 °C
0.20 °C
-70 to < -35 °C
0.10 °C
-35 to < -27 °C
0.05 °C
-27 to 70 °C
0.03 °C
Relative Humidity
>0% to <5% RH
0.02 %RH
5 % to 98% RH
(0.17% * R) + 0.016 %RH
Tests for response time
all ranges
upon request
Tests for hysteresis
all ranges
upon request
Tests for stability
all ranges
upon request
---
Thunder Scientific has qualified calibration experience with a large inventory of humidity sensing equipment including psychrometers, hygrothermographs and RH/Temp data loggers. Thunder Scientific delivers your calibration with as found and as left calibration data per the guidelines of ISO/IEC 17025:2017.
---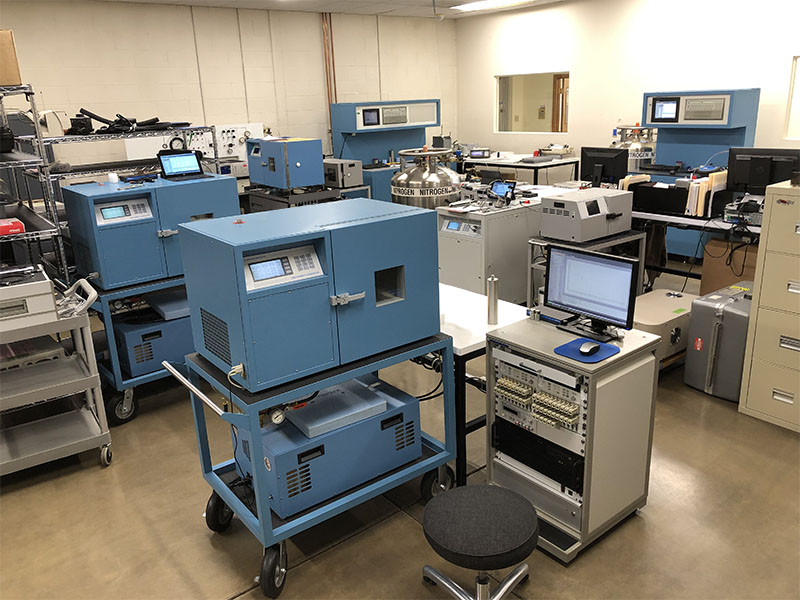 ---
Thunder's Calibration Laboratory