Thunder Scientific offers different options to customize our humidity generators. You can order these parts separately, or in addition to the standard configuration. In some cases you may have to order the option at the time you order your system because it can not added at a later time. Or you may order them as replacement parts. We also offer spare parts and repair kits for the most commonly needed items, see the
Repair Kits and Parts page
.
---
Thunder has several different options for each system we sell.
---
This is the Most frequently ordered option
The Tri-Port Chamber is made for the Model 2500ST humidity generator, and provides two additional ports to insert instruments for calibration as well as a third port with a 1/4" Swagelok® fitting port.
---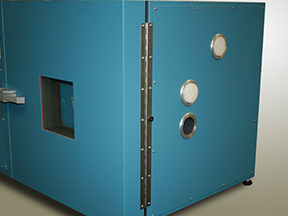 ---
Note: The ordering codes are shown in parentheses and bold letters. Specify these codes when ordering.