CO2 Free Dry Air Compressor System
A Fully Enclosed Compressed Air Supply, Air Dryer & Sound Muffling Enclosure
The ACS3920 Air Compressor System with integral CO2 Adsorber/Air Dryer provides a clean, dry, continuous duty gas supply for the Thunder Scientific Low Humidity Generators. The ACS3920 Air Compressor System consists of a vibration isolated 3/4 HP oil-less compressor, membrane air dryer, CO2 Adsorber/Air Dryer, and adjustment regulators, all incorporated into a sound muffling enclosure. The ACS3920 is ideal for laboratory use due to its small size, 100 psiG pressure output at 10 L/min, with an ambient pressure -70 °C FP, 100% duty cycle capability, and a low sound level of less than 70 decibels.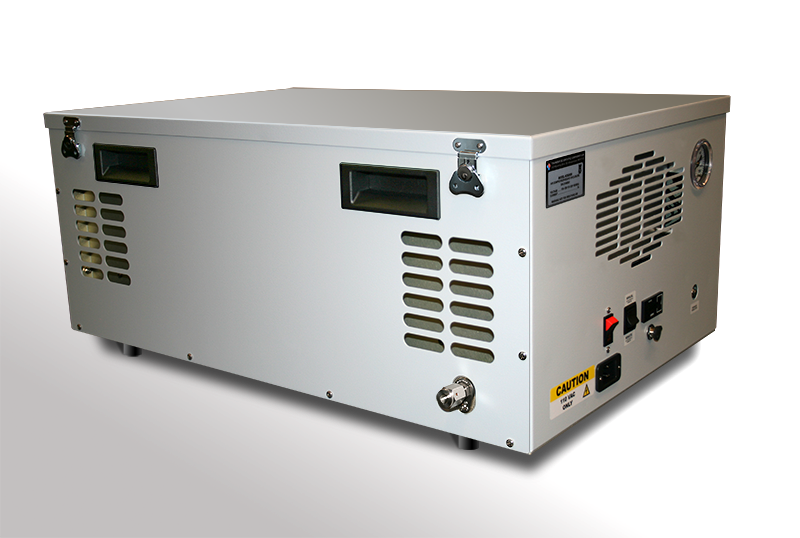 NOTE: When using the ACS3920 with a Model 3920 or Model 3900 Low Humidity Generator the working range of the generator will be limited by the lower pressure and overall dryness outputted by the ACS3920. You will only be able to generate down to around a -70 °C frost point when using the ACS3920. It is also important to adjust the internal Model 3920 or Model 3900 regulator to 80 to 90 psiG to assure proper pressure control.
FEATURES
100 psiG Oil-Less Air Supply
CO2 Free Dry Air
-70 °C Ambient Pressure Frost Point
Membrane Air Dryer
CO2 Adsorber/Air Dryer
Sound level <70 db
Vibration Isolated Compressor
8' Removable AC Power Cord
Remote Start Function
Hour Meter
Dimensions H 14.0" x W 28.9" x D 18.1"
Weight Approximately 75 Lbs.
Connection Supply Tubing & Fittings
Rolling/Locking casters (Optional)
Product Accessories & Parts
These are the accessories & parts available for the Model ACS3920.
---
ORDERING INFORMATION When ordering a new air compressor system, part number ACS3920, you will receive a five foot air supply line with fittings, a removable AC power cord, plus an ACS remote cable assembly, and the enclosure with air compressor and dryer. If you already have a Model 3920 low humidity generator, and you only need to order the air compressor system, here are the ordering part numbers. Use this part number for the 115 volts at 50/60Hz system, ACS3920-115, or if you need to order a high voltage air system, specify part this number ACS3920-230 for the 230 volts at 50/60Hz system.
SERVICE Thunder Scientific does offer repair services for any of our compressor systems, just ask for a quote.
---
---
This table shows the container dimensions and shipping weight.
| Model | Dimensions | Weight |
| --- | --- | --- |
| ACS3920 Air System | 37" x 24" x 23" (94 x 61 x 58 cm) | 165 lbs. (74.8 kg) |